2nd Lyric Festival at Sea
on Le Lyrial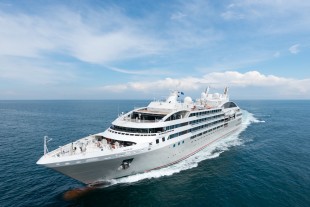 In partnership with RADIO CLASSIQUE, with the exceptional presence on board of Alexandra Marcellier and Alain Duault.
PONANT invites you to discover gorgeous landscapes and exceptional cities during an 8-day cruise between Italy, France and Spain aboard Le Lyrial.
Departing from Civitavecchia (Rome), your ship will set a course for Bonifacio, in the far south of the Isle of Beauty. Veritable fortress sculpted by the wind and the spray, the "sentinel city" will reveal its historical centre and its long cobbled streets.
You will sail towards Barcelona. Truly an open-air museum, the "prodigious town" reveals an astonishing range of artistic treasures and museums, combining Roman ruins, medieval districts and a number of avant-garde elements from the 20th Century.
After a call at Palma de Mallorca, one of the jewels of the Balearic Archipelago, known for its four main islands that are charming, picturesque and discreet, sitting atop the clear waters of the Mediterranean like grains of sand, you will join Valencia, with its remarkable architectural splendours.
From Motril you will set off to discover the magical city of Granada and its Alhambra Palace, listed as UNESCO World Heritage Site.
Le Lyrial will then sail on to Marbella. From the Paleochristian and Roman remains, in the area around this famous seaside resort, to the heart of the old town, its history can be read in its buildings, in particular the 10th century castle built by the Moors.
Then you will head to Málaga, end of your cruise.
Luxury
Theater, Arts, and Music

Why choose Ponant ?
A French crew, expertise, attentive service, fine dining and more. Within a fully 5 star setting, we take you to discover exceptional destinations while offering you a travel experience that is both authentic and high end.
Travelling the French way
As the only cruise company sailing under the French flag, PONANT is an exponent for the French way of life across every sea on the globe. On board, this is translated through ex
...
Superior Stateroom Cat.SP3