Epic Patagonia: Fjords, Peaks and Forests
on National Geographic Explorer
Epic Patagonia: Fjords, Peaks and Forests
Legendary wildness and special access to seldom-visited regions
Remote and largely inaccessible, a Patagonia cruise is the essence of wildness—a maze of channels and islands. Venture deep into Chile's glorious fjords past incandescent icebergs and massive glaciers such as the massive Pio XI Glacier, which is still advancing. From Chiloé Island, with its unique cultures and glorious
...
About National Geographic Explorer
About Lindblad Expeditions

Why Lindblad-National Geographic?
A Lindblad-National Geographic expedition is arguably the most exhilarating overseas adventure travel experience a person can have. Nothing else comes close to approximating its authenticity and all-five-senses engagement. We offer you the world's ultimate, authentic expedition experience: Discover the planet's most remarkable places, accompanied by experts able to illuminate all you see, and with cool tools to use to explore up close and personal
...
Main Deck With One Or Two Portholes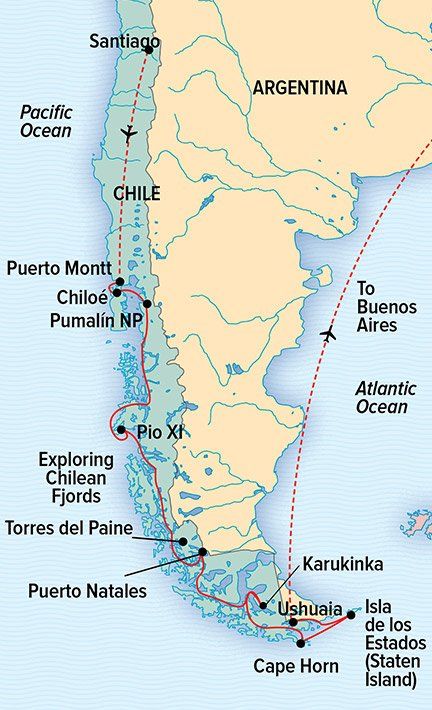 Day
Destination
1-2
U.S./Santiago, Chile
3
Puerto Montt/Embark
4
Castro (Chiloé Island)
5
Pumalín National Park
6
Aysén/Coyhaique/Andes Mountains
7-10
The Inland Passage & The Chilean Fjords
11
Puerto Natales/Torres del Paine National Park
12-13
Tierra del Fuego: Karukinka Natural Park
14
The Chilean Fjords, Beagle Channel & Yendegaia
15
Cape Horn
16-18
Isla de Los Estados (Staten Island), Argentina
19-20
Ushuaia/Disembark/Buenos Aires/U.S.